"Part of showcasing one's style is preparing the canvas..."
-Me
I'm supposed to be studying but...
Every time I get my hair done, I think of it was a mini make-over. ...A new chance to reinvent Tammie.
In my mind, a transformation goes forth to not only beautify myself, but reward myself for the HARD work I've done.
I deserve to be pampered.
[PERIOD.]
I made a decision to do something drastic with my hair.
But BEFORE fully committing my time and money, I wanted to be sure if change in tha direction is what I REALLY wanted.
So I tried on some wigs.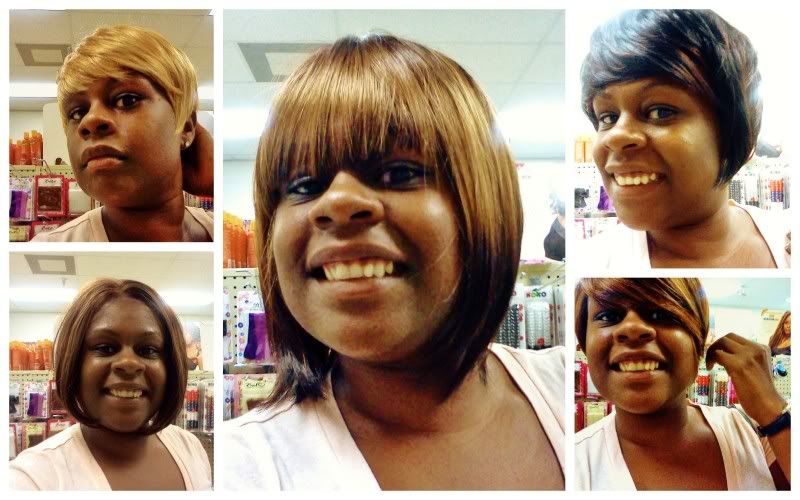 I came to the conclusion that maybe I should ease my way into change...not jump in feet first.
At any token, Saturday the transformation went forth.
[This was NOT a new discovery but...]
My hair looked ratchet from sweating with Turbo Fire four days this week and me taking a break from sleeping pretty last night ('cause I knew I was going to get my hair done).
I promised myself when I advanced in my career, I would take better care of my hair.
Or, pay somebody to.
I am a REGULAR at the salon I go to. Thus, I make sure my hair is washed, deep conditioned and trimmed on the regular. [I'm too lazy/busy to do it on my own]
Thus it is the healthiest it's been in a LONG TIME.
So today, my hair and nails went from this...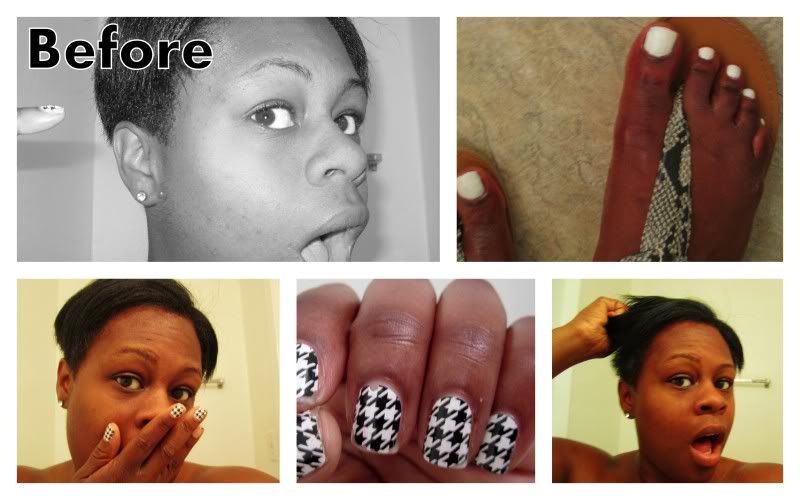 To this...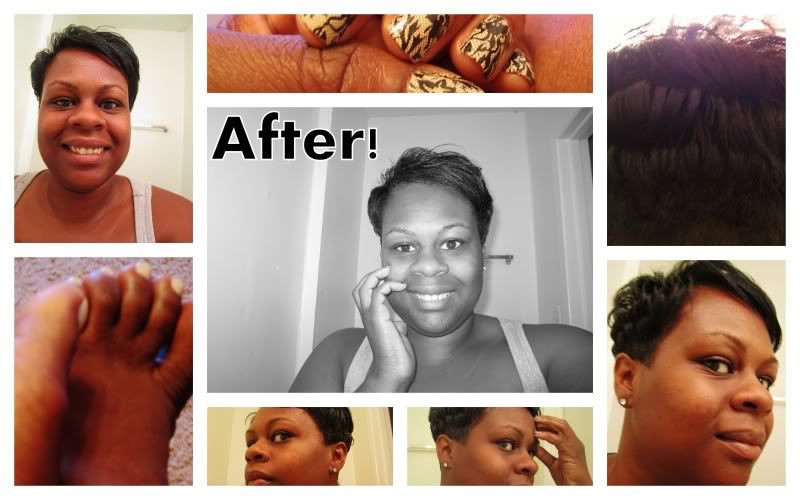 Another part of my mini make-over was visiting the nail spa.
I got a pedi last week so it wasn't necessary today.
I got an eyebrow wax and a polish change.
The color I'm rocking this week is
Essie's "Sand Tropez" which is exactly the same as Finger Paint's "Don't Make a Scene," which I already had.
In the bottle, they look like very light colors, but they come out taupe on me.
I am feeling neutrals and browns this season.
Earth tones are my favorites.
I got the Essie to match the base color for Sally Hansen Salon Effects in "Laced Up."
Applying Salon Effects isn't Rocket Science.
But it's not easy as pie either.
You have to take your time.
But it's worth it.
The nail lady asked me if I did my own nail designs today when she saw remnants of last week's design on my nails.
I let her in on my secret.
I also got Sinful Colors "Nirvana"
Sally Hanson Insta-Dry "Quick Sand"
and Revlon Top Speed "Espresso."
The lady in Wal-green's FOUND me a coupon for the latter.