"It makes you a better person when you consider your fellow man...and take action."
-Well Known Fact...
I signed up for two walks this month.
One was the

Breast Cancer Walk

.
And the other was the

Heart Walk for Heart Disease

.
I wasn't too keen on getting up this (Saturday) morning at hours that rivaled those of me getting up for work.
But once I got going it was all good.
I did my morning routine, researched the location on Google Maps, and headed out the door.
I was headed toward the WRONG location, but traffic was blocked which lead me to the RIGHT area.
When I saw all the individuals dawning their

pink

and

breast cancer awareness themed shirts

, I knew I had purposed in my mind to go to the wrong walk today.
From the waist down, I was straight.
But I would have liked to dawn one of the little

pink

tanks I have in my drawer...
I didn't feel too bad as I saw some others who were not wearing any

pink

either. ... OH WELL!
Cropped Leggings: Forever 21+
Tennis: Nikes

(even though they are OLD, they were surprisingly comfortable walking/jogging shoes)
I am EXTREMELY proud of myself!
I finished the walk, jogged it some, and did so at a good pace (if I do say so myself).
Camera in hand at that!
I can tell my stamina has increased as a result of doing Turbo Fire consistently.
I will admit part of my motivation was making my hair appointment this afternoon. ... (It is what it is!)
Side Note: I was enlightened, surprised and proud all at the same time to see the numerous amounts of

men

participating.
Here are some more pictures from the event.
The Venue:
The walk was held at the Water Garden.
They even had the water dyed

pink

which I thought was a neat touch!
Interesting Sights:
Interesting People:
Cutting the Ribbon: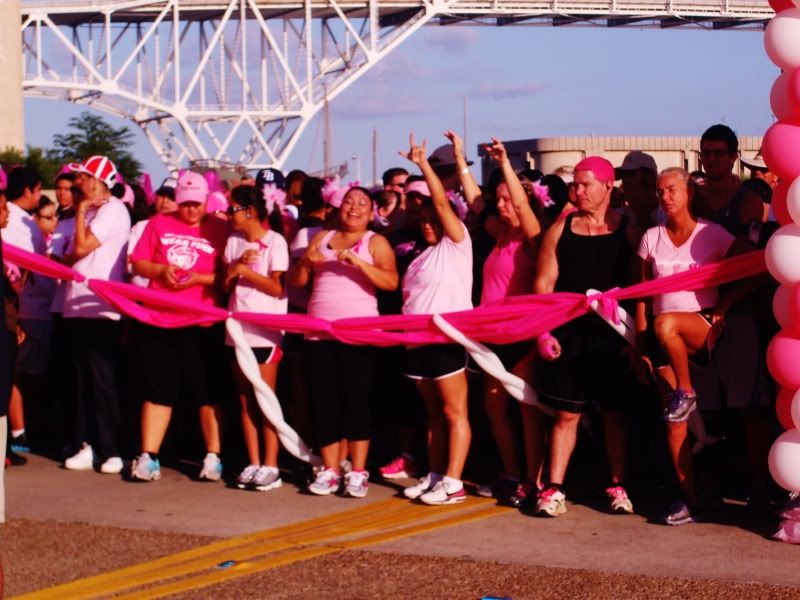 Full Speed Ahead!